Uniform is an important part of a school's identity. It reinforces who we are as a community and helps enable students to feel pride in their school. It ensures students are not put under any pressure because of the type of clothes they wear and promotes equality. We wear our uniform with pride and thank you for ensuring your children are properly equipped for the school day.
School Uniform Stockist
We use My Clothing Embroidery Service as they have the embroidery equipment able to deal with our colourful logo – you will find all our embroidered items of uniform on their website and ordering is a simple process. This is the same supplier and the same service as was previously offered by Tesco Uniform Embroidery Service.
Please click here for the My Clothing website, this will take you to our school shop where you can purchase:
Round neck t-shirts with logo for PE only

(optional)

Polo shirt with logo

(optional)

V neck sweatshirt with logo or V neck cardigan sweatshirt with logo
Please note that we have sample sweatshirts in a range of sizes in the school office for trying on as a guide before you order.
We have also given you the choice of three bags which are all a suitable size to hang on our school pegs. Children should have a book bag or small school rucksack for their Reading Log, reading book, homework etc.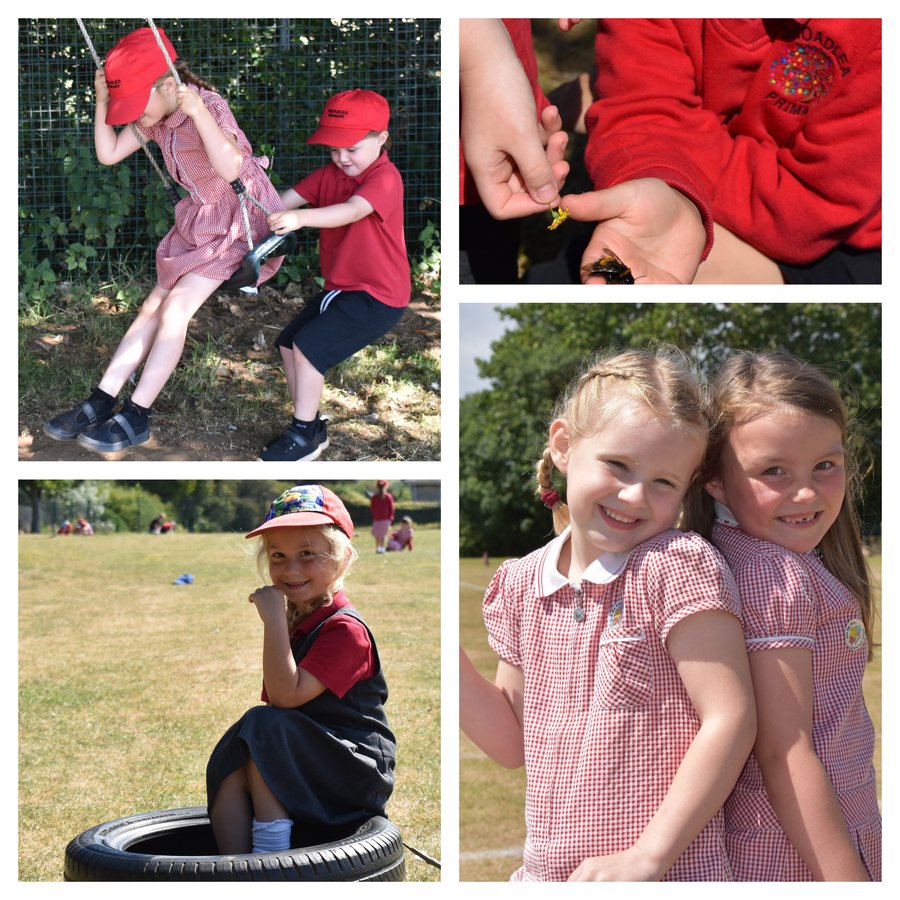 At Broadlea we wear our uniform with pride. Our uniform consists of:
Red V-neck sweatshirt or cardigan with embroidered new school logo (My Clothing)
Red polo shirt (with embroidered new school logo optional) (My Clothing)
Dark, charcoal grey or black trousers, skirts, pinafores or shorts of an appropriate length
In the Summer term, red/white gingham dresses (leggings should not be worn under dresses and skirts; black 'Lycra cycling style' shorts may be worn under dresses and skirts but must not hang below hem length)
Sensible black school shoes (No backless shoes or open toe sandals; no boots indoors; no trainers)
Plain black, white or grey socks
Plain black, white, grey or red tights
Plain black, white, grey or red hair bands without adornments
No jewellery should be worn in school (plain studs can be worn in pierced ears but they must be removed or taped during PE lessons)
Make up or nail varnish should not be worn in school
Long hair should be tied back with plain school-coloured bands or clips
Hoodies are not to be worn in the classroom or playground
For Reception & Year 1 only, the option to wear a dark charcoal grey or black jogging bottoms instead of trousers, skirt or pinafore. These are particularly suitable for outdoor learning. All other items of the uniform remain the same.
Some parents may wish for their child to wear trainers at all times in Reception & Year 1. This is acceptable as we do not want you to have to go to the expensive of buying a pair of shoes which will be rarely worn. However, when it becomes wet and muddy outside, we may review footwear and suggest a pair of cheap, black plimsolls for indoors if trainers are getting muddy and wet.
PE (Reception classes do not need a PE kit)
PE kits should ideally be kept in school all week in a small drawstring bag which can be hung on a coat peg/stored in a locker.
Plimsolls, slip-on if possible
Trainers for outdoor games (Key Stage 2)
Black PE shorts
Red round neck t-shirt (not polo shirt, with embroidered new school logo optional) (My Clothing)
Dark coloured, plain tracksuit (for cold weather)
Forest School/Outdoor Learning (All year groups)
Forest School/Outdoor Learning clothes should be kept in school all week for Reception & Year 1. Years 2-6 should keep their basic Forest School clothes in school all week for Outdoor Learning (Wellies and Waterproof) and bring their old trousers/fleece/warm clothing in on the correct day for Forest School. Children will learn in a variety of weathers and in all seasons; this is all part of the Forest School philosophy. Because the children may get dirty and wet during these sessions, they will be expected to wear:
Old trousers
Wellies
Fleece or old warm top
Waterproof coat and trousers
Hat and gloves/Sunhat